A place to live given to the homeless man who helped and attended the victims of Manchester Bombing!
A homeless man sleeping near Manchester Arena, heard an explosion from a bomb in a nearby lobby of a concert hall and ran towards the explosion! That sounds crazy, isn't it?
This homeless man is Steve Jones who did exactly this and ran towards this explosion to help the victims of the Manchester Arena Bombing at Ariana Grande concert. 22 people were killed and 64 injured, but saved due to this homeless man! how many of us still think that's crazy?!
"There were children with blood all over them, they were crying and screaming. We had to pull nails out of their arms and a couple ourt of a little girl's face" he told to ITV News. " It was just instinct to help them, the young children had shrapnel wounds." he continued.
'We had to pull nails out of children's faces': Steve, a homeless man who was sleeping near #Manchester Arena, rushed to help young victims pic.twitter.com/dyxzZpal0Q

— ITV News (@itvnews) May 23, 2017

[nextpage]
His words soon went viral, and the world started seeing the goodness of this one man. "Just because I'm homeless doesn't mean I've not got a heart, and I'm not human still. I needed to help. I'd like to think someone would come and help me if I needed help. It's just instinct." he told to ITV News.
Such goodness still remains in people and the world needs to acknowledge it and that's exactly what David Sulliman- co-chairman of West Ham Football Club, and his son did! With the help of twitter they tracked down Steve Jones and decided to help him get on his feet !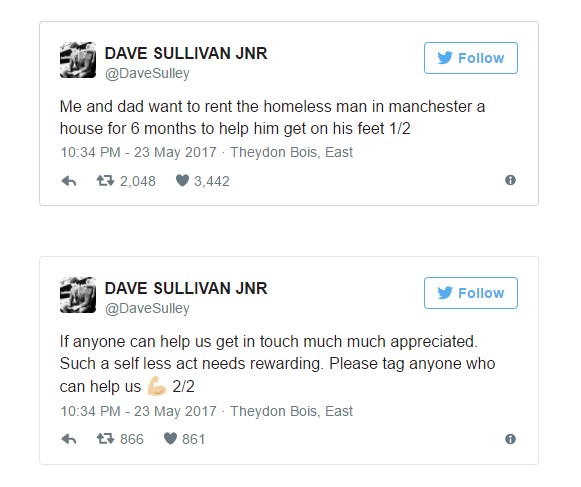 A JustGiving campaign has also raised more than £21,000 ($27,000) with the goal of finding him somewhere more permanent to live!
The world is after all not that bad yet!